Celebration of Hadiyah Miller Life and Legacy and Gathering for Justice and Inclusion professional development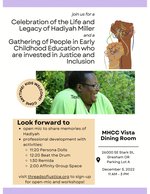 Join the Threads of Justice Collective for a Celebration of the life and legacy of Hadiyah Miller and a gather of people in early childhood education who are invested in justice and inclusion. We will have an open mic to share memories of Hadiyah.
Engage in 1.5 - 2 hours of professional development activities on
Persona dolls - Learn about the use of persona dolls as tool to teach young children about social issues that directly effect their lives and experiences.
Story-telling, "Beat the Drum" - Authors read aloud children's story, Beat the Drum, about the complexities of intersectionality in work with cultural and gender norms.
The Inventing Remida Portland Project - will lead an interactive workshop teaching how to weave identity learning together with art materials and loose parts at home or in the classroom.
Affinity Group Inspired Space - Attendees will engage in a group conversation about current issues, priorities, and needs children, their families, childcare centers, and adults providing childcare are currently having and begin brainstorming how to combat those barriers.
Saturday December 3rd, 2022
Come anytime
Snacks and Threads of Justice resources
Kids are welcomed!