Journey to the Stars Conference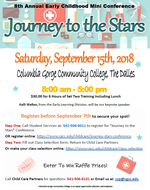 Welcome to the 8th annual Journey to the Stars early learning conference. Here is your opportunity to get 6 hours of Set Two training all in one day and have fun doing it!
This year's conference is focused on Health and Safety! Whith an increased focus on emergency preparedness and safe practices, we have selected training sessions to help you prepare.
The day will include food, prizes and an opportunity to network with other early learning professionals like you.
Saturday September 15th, 2018